Today Venus enters the sign of Taurus. Together with Libra this is one of her favorite places to be. The sensual world comes to life in ways that comfort, nourish, and return you to your most natural way of being. Something stabilizing takes hold.
The energetic, action-oriented Aries Sun sextiles Jupiter in Aquarius. You create opportunities for yourself that allow you to expand into more interesting, innovative, or enlightened spaces. Your timing may be "spot on" when it comes to launching or manifesting an idea.
To add challenge, honesty, pain, or personal power to the equation, the Sun squares Pluto in Capricorn. There's more to see or know than meets the eye. But we're probably not too anxious to have "what lies beneath" revealed. A confrontation with a harsh truth or limit challenges you to push through.
Financial partnerships can be tricky or a source of complication. Opportunities may present as a double-edged sword. Obsessions and compulsions surface. Fear of losing control may intensify.
But the actions we take have the potential to make our lives bigger, more enjoyable, or more deeply satisfying. Ideas manifest to activate new beginnings.
On April 18th the Sun and Mercury align. The message is delivered. The enlightened idea can be expressed in ways that highlight potential, talent, or a courageous, bold/innovative move forward.
Thanks for reading,
Holly
Holly RePenn
RN, MS, RYT, NMH, C.A.P.
Professional Astrology
Certified Astro-Cartography Practitioner
31631 Los Rios Street
San Juan Capistrano,
CA 92675
www.mosaicastrology.com
hrepenn@gmail.com
949-204-6109
ARIES (March 21-April 21)
This week an area of vulnerability is triggered, highlighted, and intensified. Pushing through is painful. The scab is torn off of an old wound. It's time to sink or swim. Swimming makes you stronger. You might need extra support now. It's good to ask for it. At this point in time Neptune in your 12th house makes you an expert at evading and avoiding. Venus moves into your 2nd house of ease and flow and a gentle move toward stabilization and comfort. Deep sources of inner strength and wisdom can be called upon for support. Venus is timeless love. She creates balance and empowers you to attract what you need – at any given moment in time. Music might be important as it moves you into your natural and most powerful grounding rhythms. This week may be a test of strength and determination. Fortunately you have access to everything you need to survive and thrive. And it might be easier than you think.
TAURUS (April 21-May 21)
Venus moves over your Ascendent and into your 1st house where all is right with the world – or at least easier from your perspective. It's a time when it's easier to attract what you love and who you love. In fact your ability to attract what you want is powerfully enhanced over the next few weeks. Your role within the realm of relationships becomes easier. Your particular style and approach to the world encourages good things to flow in your direction. Success comes as you target your focus, remain disciplined, and offer something outside the range of what's traditionally expected. Maybe your leadership style is unusual and unusually effective. Figuratively and maybe literally your on stage and under a spotlight. Wealth and abundance flows in your direction as long as you're willing to release old beliefs about power, control, and your role within the realm of financial partnerships. Joint ownership and pooling resources gets easier when you're willing to look more closely at a hidden part of yourself you might prefer to disown.
GEMINI (May 21-June 21)
Venus's move into your 12th house gives you time alone to contemplate, rest, re-connect with invisible guidance and support – and to release what interferes with the infusion of more joy into your life. Something playful, childlike, loving, or romantic seems right. Acting courageously and taking some risk for the sake of the future, a cherished dream, or personal interest seems important. Financial partnerships and possibly the legalities involved challenge you to deliver a hard-hitting message or to decide what would most closely align with your ideals, public image, and the audience you'd like to attract. It's relatively easy to connect with something hidden beneath the surface of consciousness that might clarify what's currently confusing or keeping you "in the dark. A more promising role for you within the realm of relationships (or within the world in general) is contingent upon the release of an old belief about marriage, commitment, liberation, dependence, and the future.
CANCER (June 21-July 21)
This week the public/social sector of your life is infused with a warm, welcoming, comfortable, ease and flow. Being with supportive friends and groups might feel like "coming back home to yourself." They provide the fertile ground you need for personal growth and expansion. Something more balanced related to destruction, re-building, and transformation begins to take shape. Balancing the equation or the relationship gets easier. Cultivating what's most promising continues to depend on your ability to release what's run it's course. This is most likely related to your work, routines, health, or the current responsibilities you've agreed to take on. Marriage or long term commitments may present a challenge as you might tend to project your own need for control onto a partner. Confusing power dynamics present a challenge. A conflict within your professional life and a primary relationship may require an act of courage or the willingness to take some risk for the resolution to emerge. Something clarifying is likely to confront you with a truth that's challenging to accept. Don't be afraid to take a look at what feels true. Something liberating is sure to follow.
LEO (July 21-Aug 21)
The Sun in your 9th house energizes growth, expansion, travel, higher education options, and maybe good fortune with regard to bringing an important relationship into better balance. Something courageous or risky is required. Moving into the unknown may be a challenge. This looks like an area of vulnerability for you. But whatever professional work or preparation you've done in the past is likely to be rewarded in the form of some easy successes. A gift is likely to be handed to you. Publicly you're likely to be recognized as a "breed apart or a cut above the rest." (Maybe somewhat lovable as well.) A partner may play a role in moving you toward an ideal course of action. But this could depend on your willingness to release what's run it's course – possibly an old belief that requires you to "stay the course," to stick with what's familiar to avoid mistakes. The action-oriented Sun in Aries is on a collision course with Pluto in your 6th house of work, health, routines, and what feels obsessive – like too much work or stress.
VIRGO (August 21-Sep 21)
Children, the development of a personal talent, or an intense romantic encounter could initiate something transformative this week. Co-workers, routines, health issues, and the desire to grow and expand beyond your current limits or level of service is timely. The time might be right to develop an innovative idea and to jump a "few light years" beyond where you are now. It's likely you'll need to focus on what currently holds the promise for you – probably within the professional realm – as you continue to release old beliefs about home, family, tradition, the past, and the supportive role you've accepted. In their own right Virgos are a dynamic force to be reckoned with. Thinking bigger and expanding your mindset may be easier this week as Venus moves into your 9th house of liberation, foreign territory, growth, and the future. It's likely you're indispensable and irreplaceable. Venus may be handing you a gift making it especially easy for you to make your life bigger and more comfortable in some regard. Maybe your tribe or the love of your life is located at some distance from where you are now. You might have an important decision to make. Venus will help you come up with something balanced rather than self-sacrificial.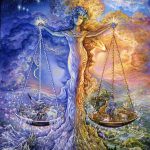 LIBRA (September 21 – October 21)
Despite your vulnerabilities within the realm of relationships it may be time for you to take some creative action that puts you on a collision course with a hidden personal truth. Something uncharacteristically risky, forceful, or determined may be required. This may relate to the past – your home, family, mother, or how you deal with or interpreted the past. It might be time to recognize how something continues to hold undue influence over your current life and the nature of your relationships. Something deeply transformational may be required to achieve a balance of power that works. Venus's move into your 8th house supports an important transformation. A gift or concession from a financial partner may be forthcoming. What must be faced or acknowledged turns out to be easier than you thought it would be. On a different note this may be the week you attract the healer that's right for you. For Libra the power of attraction is exponentially enhanced this week.
SCORPIO (October 21 – November 21)
Mars in your 8th house of transformation involving sex, intimacy, shared ownership, power, and all things that are too sensitive to discuss in polite company are highlighted in ways that result in a perfectly timed courageous action that allows for growth. Jupiter in Aquarius opens the doors to possibilities that are non-traditional, innovative, or existing within the "underground." Venus moves into your 7th house of relationships. There's lots of support for cooperation, compromise, and comforting, stabilizing expressions of love. Joint financial abundance is supported. An unexpected gift may be handed to you. (You've likely earned it at some point in the past.) A confrontation with the part of your mind that's prone to obsessive/compulsive ruminations and in need of transformation – is triggered by taking a risk possibly within the workplace or with regard to your health/routines. You'll likely face a personal truth you don't want to see. Depending on your willingness to integrate what's there, obsessions could disappear.
SAGITTARIUS (November 21- December 21)
Jupiter and Saturn in your 3rd house of communication and messaging seems to be urging you to take some risk to grow beyond where you've been. You may be holding something unique and innovative in your hands, waiting for the right time to further develop it more or to share. Maybe it seems like too much work at the moment. Maybe you don't have the confidence you need to create a new service or offering. As Venus moves into your 6th house of work this week, that will change. Something supportive that makes things much easier (possibly technologically) could be the "green light" you were waiting for. The courageous Aries Sun and forceful "idea-generating Mars in Gemini" may have you moving along two tracts of potential growth. Relationships hold great promise for mutual support and cooperation as long as you can release old beliefs about the nature of your role within the realm of relationships. Something courageous related to love or a cherished dream challenges you to face a part of yourself that may be hard to accept. Most likely it involves money and power.
CAPRICORN (December 21-January 21)
The impatient, courageous, risk-taking Aries Sun in your 4th house of home, family, and security needs challenges your current role in some regard. Something deeply transformative is in play. You may need to face some fear related to financial stability, a sense of security, or the need for total control. Something new and disruptive may be unsettling to your unshakeable foundational strength. On a different note Venus moves into your 5th house of romance this week. A new attraction with sensual/romantic appeal crosses your path. Creativity feels inspired. Life is more fun for the next few weeks. The kids are happy and they make you happy. You may have time to rest and recuperate or to appreciate more deeply the natural rhythms of life. You may be aligned with a talent that allows you to build something of prominence within a public space. What you've worked for over time may be coming together in ways that are deeply satisfying.
AQUARIUS (January 21-February 21)
Growth and expansion within the realm of something innovative, unique, controversial, or ahead-of-it's-time may need to be set in motion. It might feel risky – possibly to the solid reputation you've built over time. But something new and different may feel irresistible. It's likely you've broken through an old sticking point. For the sake of your audience, and keeping it fresh, it's important to release what's old and tired and maybe keeping you from creating something more interesting for yourself and others. Pluto may have you working hard behind the scenes to uncover an invisible source of limitation. It may be hard to face or fully integrate but important for the transformative process to take hold. Venus's move into your 4th house of your home and family highlights something comforting, secure, while at the same time exciting and potentially disruptive. Cautious optimism prevails. Maintaining your focus and staying tuned into a partner seems important.
PISCES (February 21-March 21)
There's a lot going on behind the scenes in terms of growth and expansion. Yet none of this may be visible on the surface. Maybe it appears to others you're making no progress. Maybe it feels like the to you. But this is deceptive. Something exciting may be gestating behind the scenes. It's worth considering that you may be preparing to give birth to something enlightening, extraordinary, and life changing – for yourself and those you influence. Love – or your receptivity to love – may be an issue. Controlling the rate at which you'll "let love in" may or may not be an issue. But it's something that could benefit from a closer look. Venus transits into your third house of communication this week. Your ability to attract and connect with a source of love and inspiration is much easier than usual. Maybe you've comes to terms with your fundamental values and priorities. Now you can focus on attracting the love you long for.